Michigan Inching Towards Top 5 Recruiting Class
Michigan is just outside of the Top 5.
The Wolverines jumped up three spots to No. 6 in the 2021 Rivals team recruiting rankings after landing a huge commitment from Rivals250 offensive lineman Raheem Anderson.
Anderson picked Michigan over offers Arkansas, LSU, Michigan State, Nebraska, Purdue, West Virginia and others.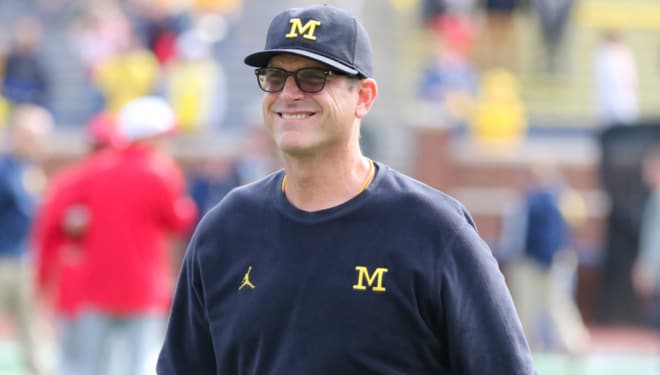 Anderson was considered a Michigan lean since last year. However, there were some question marks this month after the Wolverines landed fellow center Greg Crippen.
Michigan State made a run at Anderson, but Michigan head coach Jim Harbaugh got on the phone with Anderson on Thursday and made it clear that he was a priority. The call sealed the deal for Anderson.
Michigan now has eight commitments in its 2021 recruiting class. Anderson joins Rivals100 quarterback JJ McCarthy, Rivals100 offensive lineman Giovanni El-Hadi, Rivals100 tight end Louis Hansen, Rivals250 offensive linemanGreg Crippen, three-star linebacker Casey Phinney, All-American specialist Tommy Doman and rising defensive lineman Dominick Giudice.
Michigan moved past Texas, Miami and Georgia and now has a total score of 952. Every team ranked ahead of Michigan nationally holds more commits at this time except Notre Dame.
Here is a look at The Big Ten rankings:
1. Ohio State
2. Michigan
3. Wisconsin
4. Rutgers
5. Penn State
6. Maryland
7. Iowa
8. Minnesota
9. Indiana
10. Nebraska
11. Purdue
12. Northwestern
13. Michigan State
14. Illinois
Michigan is within striking distance of Notre Dame and a Top 5 class. The Irish are ahead by fewer than 40 points.
The commitment of Anderson awarded Michigan 130 points. Anderson is ranked as the No. 2 center and No. 139 overall prospect in the country, per Rivals.com.
Anderson is the third offensive line commit in the 2021 class.